Return to News
Merthyr v Pontypridd – match preview
Thu 15th February
Pontypridd travel to play Premiership leaders Merthyr on Saturday 17th February, the match at Y Wern kicking off at 2:30pm.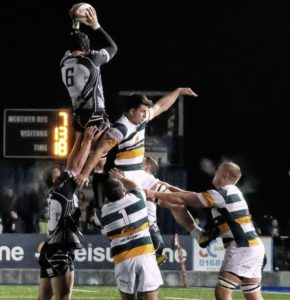 Reigning champions Merthyr currently hold top spot in the table, having recorded three consecutive victories since the fully integrated league of sixteen clubs was launched at the turn of the year. Ponty in the meantime lie back in fourth place and five points adrift, having lost some momentum with a 19pts to 5 away defeat at Ebbw Vale last time out.
Honours are shared between the clubs so far this season with one victory each in the east conference, Pontypridd recording an emphatic 42pts to 29 win at Sardis Road in mid September but then losing heavily by 50pts to 21 at Y Wern in November.
Pontypridd welcome back captain Dafydd Lockyer in the centre, allowing Ceri Sweeney to revert to the fly-half position.
Alun Lawrence steps in at no8 as Hemi Barnes is rested with a recurring shoulder problem. Flanker Jake Thomas has recovered from long term injury, ready to make a first appearance of the season off the bench.
The Pontypridd team selected to face Merthyr is as follows:
15.Dale Stuckey. 14.Lewis Williams. 13.Geraint Walsh. 12.Dafydd Lockyer – cpt. 11.Alex Webber. 10.Ceri Sweeney. 9.Wayne Evans.
1.Corey Domachowski. 2.Huw Dowden. 3.Kieran Assiratti. 4.Josh Hawkins. 5.Chris Dicomidis. 6.Sean Moore. 7.Rhys Shellard. 8.Alun Lawrence.
Subs: 16.Joel Raikes. 17.Diggy Bird. 18.Matthew Billett. 19.Joe Page. 20.Morgan Sieniawski. 21.Jake Thomas. 22.Ian George. 23.Tom Mabley.