Return to News
Medical room upgrade / Gwelliant i'r stafell feddygol
Wed 8th August
Whilst striving to be the best on the field of play, Pontypridd RFC also ensures that its squad receives the best possible back-up off the field, and that certainly is true with regards to the club's medical cover.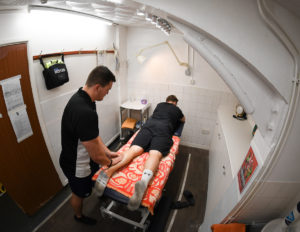 A top team of surgeons, doctors, physios and masseuse work hard to treat the aches and strains of the players. That team now has a top class environment in which to work.
The medical room in the Sardis Road changing room complex has undergone a major refurbishment this summer, in line with the demands of the WRU A Licence criteria.
The work has been completed to a high standard and offers the best facilities for the best medical team on the club scene in Wales – just what the doctor ordered!
—————————————————————————————————
Tra'n ymgeisio i fod y gorau ar y maes chwarae, mae CR Pontypridd hefyd yn anelu i roi'r gefnogaeth orau i'r garfan oddi ar y cae, ac mae hynny yn sicr yn wir am y gofal meddygol sydd ar gael.
Mae tim digymar o lawfeddygon, doctoriaid, physios a thylinwyr yn gweithio'n galed i drin anafiadau'r chwaraewyr. Mae gan y tim hwn yn awr y cyfleusterau gorau i weithio ynddynt.
Mae'r stafell feddygol yn ystafelloedd newid Heol Sardis wedi cael ei thrawsnewid dros yr haf, yn gymwys a gofynion Trwydded A Undeb Rygbi Cymru.
Mae'r gwaith wedi ei gyflawni i'r safon uchaf ac yn cynnig yr adnoddau gorau i'r tim meddygol gorau ymysg clybiau Cymru – a hynny dan orchymyn y doctor!