Return to News
Match Preview – Pontypridd v London Welsh
Thu 11th August
This Saturday 13th August Pontypridd get their pre-season underway as we welcome London Welsh RFC to Sardis Road, kick-off is at 1:30pm.
It's the first match of a double-header at The House Of Pain with Llantwit Fardre RFC playing London Welsh Druids straight after, kick off in that match is at 3:00pm.
Ponty and London Welsh have locked horns many times over the years and two matches that stick in the memory of recent times are the two group games in the 2013/14 British & Irish Cup. Ponty earned a memorable 29-22 win at Sardis Road in October 2013 before Welsh got their revenge by beating us 26-23 at the Kassam Stadium in early 2014. The last time the two clubs met was a pre-season friendly in August 2014, Welsh took the spoils that day under the guidance of an extremely familiar face – current Ponty Head Coach Justin Burnell.
Ponty's matchday squad will be a mixture of both current players and trialists who'll be looking to impress. Some of the club's new signings will be on show, which will only add to the excitement of the first match of the new season.
Supporter information –
It's an all-pay game Saturday, admission will be £10 full, £8 concession access-all-areas and under 16's free if accompanied by a paying adult. Please note that supporter access is via the clubhouse end of the ground only as the Pwllgwaun end remains closed.
There will be plenty going on at Sardis Road aside from the rugby. Firstly there will be a rededication of the Clubhouse Lounge Bar in honour of a club icon – the soon to be renamed Bob Penberthy Clubhouse Lounge ceremony starts at 12:30pm with Bob in attendance along with another club legend Tommy David, amongst others.
If a famous old team like London Welsh coming to Sardis wasn't enough, they are bringing a select core of members from the London Welsh Choir with them and they will no doubt be great entertainment.
Many of you will have attended the Sardis 7s on Saturday just gone and will have probably noticed our new kit partners Scimitar present in the ground. They had an outdoor stall selling our new replica home and away shirts as well as T-shirts, and they are scheduled to be back at Sardis again this week so make sure you check out our fantastic new merchandise. Also, not that you'll be able to miss it but check out our new Canmandos Bar and outside seating area by the side of The Grandstand.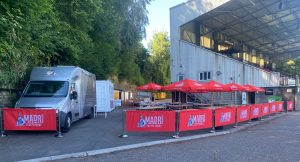 For those of you planning on getting to the ground early the Clubhouse will be open from 11:30am onwards and we'll be showing live Premiership coverage of Aston Villa v Everton on the screens in the clubhouse.
So, with the weather forecast for Saturday predicted to be scorching, Sardis Road will be the place to be for a full day of entertainment on and off the pitch.