Return to News
Match sponsors David W Harris enjoy a festive Ponty win
Fri 29th December
Amongst those who enjoyed a great festive occasion at Sardis Road on Saturday 23d December were match sponsors for the derby clash against Cardiff, David W Harris Solicitors.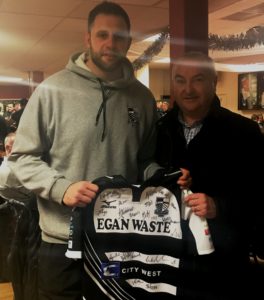 Representatives and guests of the locally based company were amongst a sell out audience for a pre-match luncheon, featuring a question and answer session with former Ponty players now with the Blues and Dragons respectively, Jarrod Evans, Garyn Smith and Liam Belcher.
After witnessing Ponty edge a thrilling victory over their city rivals by 20pts to 18, the guests of David W Harris joined in the post match hospitality, with David Mason on behalf of the company receiving a signed squad shirt from Ponty lock Chris Dicomidis (pictured).
For more information on the various sponsorship packages available from Pontypridd RFC please contact Commercial Director Emma Rogers: 01443 405006 / commercial@ponty.net