Return to News
Lockdown Blog – Kevin McGrath
Sun 3rd May
Due to underlying medical conditions (I was diagnosed with neuroendocrine cancer in 2012), I've been on a personal lockdown since mid-February, which meant that I missed out on the game against Newport and the fine win over Merthyr. At least I was able to see the main action on Ponty TV.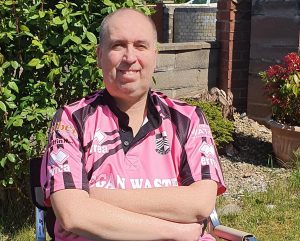 I'm lucky enough to share my home with six other family members, so loneliness isn't a problem for me right now. There will be others in the Ponty family, though, who will be really missing the weekly gathering of the clan to watch the Pont. This website allows us all to stay connected on a basic level – so more power to it.
Like many other fans, I suspect, I've been passing some of the time watching my cherished collection of old Ponty DVD's –  I reckon those unforgettable games against Bath, Brive, Bridgend, Llanelli, Saracens, London Irish and Neath have chalked up a record number of combined views in the valleys in the past month. That first cup win against Neath in 1995/96 (was there ever a better Welsh Cup final for quality, excitement and drama?) remains my all-time favourite Ponty experience, even though I missed the immediate on-field celebrations . I had jumped up and punched the air so violently when the final whistle went that my wedding ring shot off six feet in the air and I spent the next couple of minutes scrambling around on all fours trying to find it – well, Karen, my wife, was sitting right next to me!
No matter what the future holds for me, I've been damn lucky to have been a small part of the Ponty story, a proud supporter through the great trophy-winning years of both the pro and semi-pro era's. What better time to be a Valley Commando?
When I left the Heath Hospital spinal unit in 2013, I began to write about music for various magazines and websites including Wales Arts Review, Buzz, New Sound Wales and Pop Matters in America. I've been using the lockdown to update and revise a paperback edition of my collected reviews/interviews for Pop Hack, which first appeared on Kindle in March last year (both formats are available via Amazon bit.ly/PopHack). Every penny that I earn from the book goes straight to Velindre Cancer Centre, where I have been an outpatient for the last seven years.
I've been proud to stand on my doorstep to applaud NHS workers each Thursday evening, but I would also like to give a personal shout out to Mandy Eastwood, the super-kind and friendly nurse who visits my home every month to administer the octreotide injection which keeps me going. Thanks for all your care and compassion, Mandy.
Keep safe and well everyone.
Kevin McGrath
**If you would like to contribute a Lockdown Blog, mail to media@ponty.net with a suitable image – get blogging!