Return to News
Lockdown Blog – Gerald Scase
Sun 12th April
I am going to admit that I'm finding this lockdown difficult. Due to having had a lung operation thirty years ago I am classed as  'vulnerable' but not 'extremely vulnerable'. At least, being retired, I am used to hanging around the house a lot, but this is getting a bit difficult.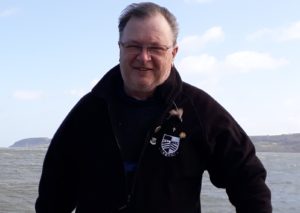 To keep some sort of routine going I make myself do five 'essentials' every day.
I have a sit in the garden, even if just for twenty minutes, to make sure I get some fresh air
I do my physiotherapy back exercises (well some of them)
I play my guitar. I started teaching myself about three years ago – just for my own amusement – I'm not very good!
I write at least a page a day – for those of you that don't know, I write by the name Leslie Scase. I am putting the finishing touches to my second Inspector Chard novel – which will feature the rugby club. It probably won't be out until next March though.
Some sort of task – it might be in the garden, a small DIY job, or tying a new fishing fly, for example.
Janet and I drink many cups of tea during the day, usually whilst watching TV (thank goodness for the re-runs of Frasier) and I've had six crates of real ale delivered by the Ludlow Brewery which should last me a while.
Due to my permanent back injury and the moving about of Ponty fixtures for TV broadcasting we haven't been to many games over the past couple of seasons – we live in Shropshire. That said, the away match at RGC this season was a brilliant day out even though we lost.  I'm really looking forward to coming down to Sardis as soon as things are back to normal. Apart from success on the field I am hoping that we get a fair share of TV revenues next season.
The image of myself by the way was taken a couple of weeks before lockdown, in a 50mph gale on Anglesey – in case you think I'm breaking the rules!
Gerald Scase