Return to News
Kids parties at the House of Fun
Tue 20th March
Pontypridd RFC can offer rugby themed children's parties which will turn the House of Pain into the House of Fun – the ideal celebration package for the up-and-coming valley commando!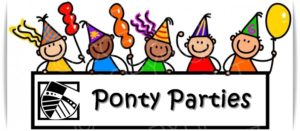 Boys and girls, families and friends will be guaranteed a fun time at Sardis Road, with games out on the 3G pitch mentored by a coach, an appearance by the much loved Ponty Panda, party time in the club – which parents can decorate in their own theme – and an opportunity to be a mascot at a Ponty home fixture.
The Rugby Parties will be priced at £50 for up to 12 children, with food at an additional cost. For every child over the quantity of 12, an additional £3 each will be charged.
For more information or to book a party please contact Joe Popple on: 07870 537255.