Return to News
Ionawr sych i Bontypridd
Mon 29th January
Mae Clwb Rygbi Pontypridd wedi cymryd hoe estynedig yn ystod mis Ionawr, a hynny oherwydd strwythur y tymor, ac yn anffodus hefyd oherwydd methiant y clwb i fwrw 'mlaen yng nghystadleuaeth y Cwpan Cenedlaethol.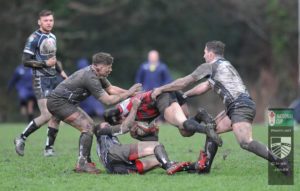 Gan fod Undeb Rygbi Cymru wedi deddfu na all clybiau'r Uwchadran chwarae gemau ar benwythnosau pan fo rowndiau Cwpan Prydain ac Iwerddon yn cael eu chwarae, gyda timau rhanbarthol yn cystadlu, bu torriad o dair wythnos i Gynghrair y Principality.
Ar benwythnos cynta'r flwyddyn newydd chwaraewyd rownd gyntaf y Cwpan Cenedlaethol, gyda Ponty yn wynebu taith heriol i wynebu Cross Keys (llun uchod).
Ar faes trwm mewn amodau gwlyb methu fu hanes Pontypridd wrth geisio dal at eu mantais ar ol mynd ar y blaen yn erbyn y Keys. Tarodd y tim cartref yn ol yn hwyr yn y gem i hawlio buddugoliaeth o 21pt i 16.
Profiad anghyfarwydd a siom enfawr i Ponty oedd colli yn rownd gyntaf y cwpan, y tro cyntaf i'r clwb fethu cyrraedd o leiaf y rownd gyn-derfynnol ers 2008, ac wedi cyrraedd y rownd derfynnol ddeuddeg gwaith, ac ennill y gwpan chwe' gwaith.
Ionawr sych oedd hi felly i Bontypridd heb ddim gemau i'w chwarae, ond gan roi cyfle i'r garfan dynnu at ei gilydd ar y maes ymarfer, a rhoi cyfle i nifer o chwaraewyr blaenllaw wella o'u hanafiadau.
Bydd y tymor cystadleuol yn ail gychwyn i Bontypridd wrth i Lanelli ymweld a Heol Sardis ar nos Wener yr 2il o Chwefror, gyda gemau pwysig i ddilyn oddi cartref yn erbyn Glyn Ebwy ac yna'r tim sydd ar frig y tabl, Merthyr. Mae pob gem o bwys yn awr wedi i'r Uwchadran gyfuno i gynghrair llawn o un-clwb-ar-bymtheg, ar ol cael ei rhannu i ddwy is-adran, dwyrain a gorllewin, yn gynharach yn y tymor.
This article commissioned for the local Welsh language journal Tafod Elai describes the 'Dry January' endured by Pontypridd RFC.
An early exit from the National Cup following an away defeat in the mud at Cross Keys, and the WRU's decree that Premiership clubs could not play on British & Irish Cup weekends has meant that Ponty have gone without a game for a whole month.
The enforced break has however given the squad opportunities to focus on strength and conditioning, and players to recover from injury.
The competitive season resumes with a home tie against Llanelli on Friday evening 2nd February, with big games to follow away to Ebbw Vale and then league leaders Merthyr.
Wordsearch
sych : dry
Ionawr : January
methiant : failure
cwpan : cup
carfan : squad