Return to News
Injury update
Wed 22nd November
The list of casualties amongst the Pontypridd squad is growing, with some facing the possibility of surgery and long lay-offs.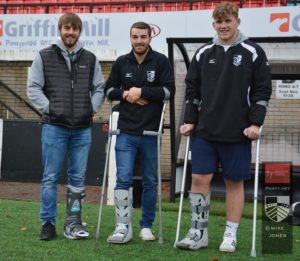 Full back Lloyd Rowlands made a huge impact in his first season at Premiership level with Ponty, but has now lost all momentum as he suffered a fractured collar-bone in the recent game against Newport. He is undergoing assessments to decide whether surgery will be required, but at best will be sidelined for months.
Prop Will Davies-King has suffered significant ankle ligament damage and will go under the knife this week before facing a lengthy recovery period. A similar injury was suffered by winger Dale Stuckey who is undergoing scans with the hope that surgery can be avoided but still unlikely to play until the new year.
Centre Jarrad Rees, like Davies-King and Stuckey (pictured above) has had his leg in a cast following a leg injury suffered pre-season and is now in rehabilitation and hoping to fit in four to six weeks. Another long term absentee on the road to recovery is flanker Jake Thomas who aims to make a comeback around Christmas time following an operation on his knee.
Prop Keelan Marney has had his season disrupted by a recurring shoulder strain, whilst winger Lewis Williams is recovering from achilles tendon problems.
The most recent casualty in the Ponty squad is hooker Huw Dowden who came off in the last game against Merthyr as a precaution against possible concussion, and will now see out the mandatory nineteen day rest period.