Return to News
'Independence Day'
Sat 4th July
Today – 4th July – our American cousins will be celebrating the gaining of their freedom from the tyranny of King George and his redcoats in 1776. The approach of Independence Day this year got our media team thinking about Ponty's own relationship with the USA and American players.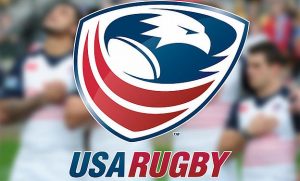 The relationship goes back to 1986, when our team toured Florida, and further tours followed to Virginia in 1991 and to the Boston area in 1993. Details of that last tour are vague, although it seems that much time and money were spent in the 'Cheers' bar in Boston.
Our connections with American players also started in 1986, when a young prop from across the pond called Lance Magna joined the club. Lance had played for the USA Eastern Rugby Union XV that lost to Pontypridd at Sardis Road in 1984, and later went on to play eight times for the national side between 1986 and 1992, including the 1991 World Cup.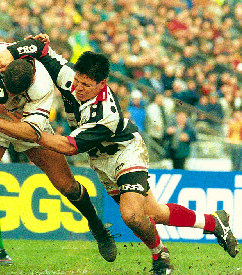 The next American to turn out for Pontypridd was Rob Lumkong (above), an intelligent No. 8 who was already an international player when he joined us in mid-season in 1996-97. It was clear in his first three games that we had gained a player of real talent, but tragedy struck in his fourth game, in the cup against Swansea on 22nd February 1997. Rob badly damaged his knee just before half-time and could not come back on the field on the restart. It was the end of the season for him and the sad end of his connection with Pontypridd. Rob went on to play a total of 29 games for USA, including two World Cup games in 1999.
The 1998-99 season saw two American internationals take the field for Pontypridd. Aaron Freeman was a massive lock forward, 6' 9" tall and weighing in at 19 stones. The other was Tom Billups, a talented hooker, who joined us from Harlequins. Both played a major part in a successful season for Pontypridd. Tom had a long international career, making 44 appearances for USA between 1993 and 1999, 12 of them as captain. He later coached the US Eagles and the US Sevens team for a number of years.
Tom was on the bench for the Eagles when Pontypridd played them on 7th January 1997. It was a very cold winter in the valleys and Sardis Road was frozen solid, so we had to move the game to the Arms Park in Cardiff. Ponty took the opportunity to field a number of young players, but our strength in depth still allowed us to put out a strong side, captained by Jason Lewis:
Kevin Morgan, Gareth Wyatt, Jason Lewis, Simon Enoch, Jason Lee; Jason Strange, Matthew de Maid; Neil Eynon, Jonathan Evans, Christian Martin, Greg Prosser, Paul Owen, Matthew Lloyd, Richie Collins, Mark Edwards. Replacements: Crispin Cormack, Andrew Metcalfe, Phil Thomas.
Jason Strange had joined Pontypridd from Newbridge, but his old club contested his transfer and he could only play in two friendly matches during the season. Christian Martin was a confident and volatile young prop from Argentina. He had played his first game for Pontypridd as a replacement ten days before, against Cardiff, and had shown up well against good quality opposition. So, he was given a starting place against the Eagles, and was sent off for stamping early in the first half! This was the end of his career with Pontypridd, although he did play in two low-key friendlies late in the season.
Fourteen-man Pontypridd battled well against the Eagles, turning around just three points down 5-8 at half time. A Gareth Wyatt try and a Jason Strange penalty in the second half were not quite enough to win the game, as a converted try by the Americans saw them home by 13-15.
So, we wish our former colonial cousins a happy Independence Day as they battle against Covid-19. It is a strange and difficult world for all of us at the moment, and we need all the good memories of past times to sustain us through the dark days.
Alun Granfield