Return to News
Game changer
Tue 1st June
The WRU have announced a planned return to the playing of rugby at community level but with some basic rule modifications introduced with a view to minimising contact and the risk of spreading the Covid-19 virus.
The competitive 15-a-side game should return in August, which will be welcomed by all supporters who have been starved of action for well over a year.
It will however be a slightly different game in its format, and one that all players, coaches, officials, as well as supporters will need to get used to.
The rule modifications focus on the contact areas.
Scrums will only be awarded for a knock-on, with no pre-engagement or axial loading at the set piece. For all other offences apart from a knock-on, the game will restart with a 'tap and pass', with time allowed for the opposing team to retire 10 metres. A scrum will no longer be an option at a penalty or free-kick award and following a knock-on over the goal line a drop-out will be awarded.
Line-outs will be restricted to seven players and the thrower-in. When a line-out becomes a maul no additional player can join the maul, and for a 'not straight' throw there will be no scrum option.
Mauls will be restricted to one movement in any direction with the referee's directive to 'use it' when the maul stops. When the referee calls a ruck no player can then join the ruck and again when the ball is playable the referee will immediately give the 'use it' directive.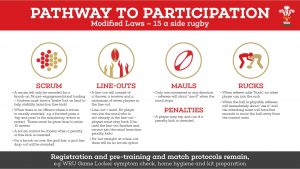 In announcing the rule changes WRU Chair Rob Butcher said: "We are thrilled to be able to announce these plans as we move further towards returning to the full game safely. The modified Laws will provide a framework for participation in our grassroots game. As we look forward to matches at this level, it's important that Welsh Government guidelines and our rugby values remain at the heart of everything we do."