Return to News
From the few to the many – the Ponty internationals
Sat 27th February
When Wales won the Grand Slam in 2005, eight of the Welsh squad were former Pontypridd players, and remarkably five were former Ponty Youth players. Of the forwards who started in all of the games, six were former Pontypridd players and the captain who led the team in the last three games and received the trophy after the final win against Ireland was former youth captain Michael Owen (below).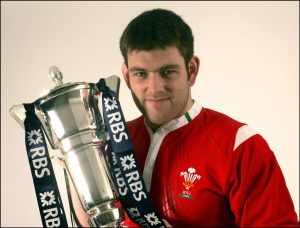 Although they all took the field as 'regional' players, the recently formed regions had nothing to do with their development as top-quality rugby players. They were the cream that regularly came to the top in Welsh club rugby. This was a remarkable turn-around for our club, which for the first 100 years of its existence only produced eight internationals. Four of these came in the early days and we had none between 1912 and 1947.
The turn-around began in a small way. When the Second World War ended in 1945, the home Unions and France, along with a New Zealand army side which was in the UK, decided to celebrate by staging a series of 'Victory' internationals. The half-backs in two of these games were a pair of Pontypridd Grammar School boys, Wynford Davies and Glyn Davies. No caps were awarded for these games, but the following season, on 1st February 1947, a nineteen-year-old Glyn Davies ran out as outside-half against Scotland at Murrayfield. Glyn went on to become a Cambridge Blue and to win 10 more caps for Wales.
Our next international and first British Lion was the great Russell Robins, who won the first of his 13 caps against Scotland in 1953. Arguably one of the best Number Eights in the world in his prime, Russell should have got many more caps for his country, and probably would have done if he had played for Cardiff or Llanelli, but he stayed loyal to Pontypridd until he turned professional in 1959.
Russell was followed into the Welsh side by lock Danny Harris in 1959, and the following season lock Gareth Payne got the first of his three caps. Another former pupil of Pontypridd Grammar School, Gareth played 102 games for Ponty between 1954 and 1964 and was another player who might have got more caps had he played for one of those 'fashionable' clubs.
In the period between 1975, our centenary year, and 1980, Ponty had a 'golden era', captained by Bob Penberthy and Tommy David and coached by Joe Smith. Tom came back to us in 1975 after a period with Llanelli, with whom he had won a couple of caps and become a British Lion. Tom won two more with Pontypridd in 1976, but he may be best remembered for his performance for the Barbarians against New Zealand in 1973, when he had a hand in what may be the best try ever scored!
Big Bob and Tom were surrounded by great players in the Ponty teams of those years, and a number came close to representative honours, but it was not until 1988 that we managed one more international. Jonathan Mason was a late call up for the Welsh tour of Australia and New Zealand and was on holidays abroad when the call came. A good-looking lad, Jon travelled 'down under' with a super tan and blonde steaks in his long hair and when he came onto the field against New Zealand as a replacement for Mike Hall, the commentator said that he was "too pretty to be a footballer". Shortly afterwards he went down on the ball against a rampaging All Black pack and was shredded!
Things now started to change for Pontypridd, as the 1990s saw the club move into another golden era, coached by Dennis John. A long list of our players now gained international honours, including Paul Knight, Mark Rowley, Neil Jenkins, Paul John, Dale McIntosh, Greg Prosser, Richie Collins, Gareth Wyatt, Dafydd James, Ian Gough, Sonny Parker, Geraint Lewis, and Richard Parks. The eight former Pontypridd players from the 2005 six nations series were Kevin Morgan, Gethin Jenkins, Mefin Davies, Brent Cockbain, Rob Sidoli, Martyn Williams, Michael Owen and Ceri Sweeney.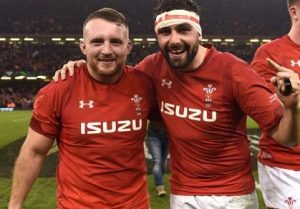 At the time of writing Wales have beaten Ireland and Scotland, proving that they are masters of the 14-a-side game! Next up is the triple crown game against England, so it's quite a turn around for Wayne Pivac's side. Of the current players with a Ponty connection, lock Cory Hill is on the bench against England, scrum half Tomos Williams is injured, whilst fly-half Jarrod Evans and prop Dillon Lewis have not been selected. Still, we can be proud that once again players with a Ponty development connection are involved in the senior national squad. Good luck to the boys in red against the old enemy!
Alun Granfield