Return to News
In form Stuckey delighted with Player of the Year award
Sun 24th June
The perfect end to a successful season for Pontypridd winger Dale Stuckey was to be nominated as Player of the Year by club supporters.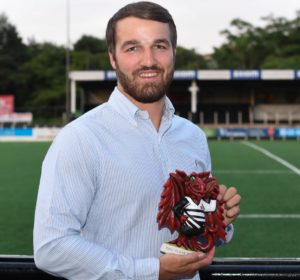 Having been to the fore with his dynamic counter attacking play, and with a return of 13 tries from 23 games played, Stuckey was a player in form and appreciated by the Sardis Road fans.
In the Pontypridd RFC Supporters' Club Annual Awards night held on Saturday 23d June, the main accolade deservedly went to Dale Stuckey, who was delighted to receive the award.
"To be nominated as Player of the Year is a massive achievement" said Stuckey, "especially as so many other players had performed well through the season and must have been in contention. The fact that the award came as a result of a supporters' poll also means a lot, to be appreciated by the Ponty fans."
Accepting his award, Stuckey could look back at a successful campaign for himself and the remainder of the squad.
"There's a good group of players at the club" said Stuckey "and we built up momentum towards the end of the season to finish third in the league. Our style of play certainly suits my game, under coaches Justin Burnell and Gareth Wyatt we're encouraged to go forward, to spread the ball and get into spaces quickly. I was given a lot of game time and given the opportunity to show what I'm capable of, for which I'm grateful."
The focus now for Stuckey and his team mates turns towards the season to come.
"We're into pre-season training and in a good frame of mind after the strong finish to last season. We need to kick on from there now, to improve and to be contenders in what will be a very competitive league. We've strengthened the squad and look forward to the season to come."