Return to News
A festival of rugby launches the Pontypridd & Valleys Initiative
Sat 30th September
Friday evening 29th September saw the launch of the Pontypridd & Valleys Rugby Initiative at Sardis Road – the first of many such rugby festivals planned.
In front of a crowd of close to 1,000 a spectacle of rugby unfolded featuring the Bridgers and Timbers girls' teams( u9s / u11s) followed by an u12s round robin tournament contested by Abercwmboi, Llantwit Fardre and Pontyclun, then at 7pm the PSRU u15s Dewar Shield tie between Pontypridd and Swansea.
During the post match presentation Ponty Schools coach Justin Burnell outlined the Initiative to guests and players and spoke of the importance of a clear pathway in the community game with links between local clubs, Coleg y Cymoedd , USW and the Blues.
Emma Rogers, Ponty Rugby Commercial Manager commented: "Our main sponsor of the Initiative, Graeson Clarke of City West Commercials, who we met with in the infancy of the plans, has been vital in allowing us to develop this community project.
"It was fantastic to work through Justin's ideas and discuss the clear pathways that are needed to provide opportunities in sport that have been neglected for some time.
"We are extremely excited about this initiative and look forward to working closely with the community to develop stronger links."
Graeson Clarke of City West Commercials presented with framed shirt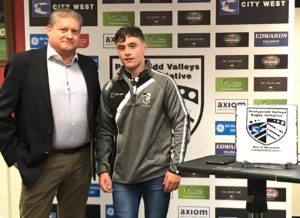 City West man of the match award presented to the Ponty Schools captain Ryan Wilkins
David Davies of Axiom presented with framed shirt