Return to News
Edwards Coaches in the driving seat with Ponty Rugby
Thu 19th July
A core sponsor of Pontypridd RFC, locally based but internationally renowned company Edwards Coaches has confirmed the continuation of its partnership with the club.

Welcoming the renewed deal, Ponty Rugby Ltd Commercial Manager Emma Rogers commented: "We are thrilled that Edwards Coaches, who are a vital part of our extended rugby family, have pledged their support as sponsors of Pontypridd RFC.
"The Edwards family – Mike, Diane, Jason and Kelly – are regulars at Sardis Road and we are proud of their involvement with our club."
Jason Edwards FCILT, Managing Director of Edwards Coaches said: "We are absolutely delighted to have renewed our partnership with Pontypridd RFC for the 2018 – 19 season.
"Like us, the club is an integral part of the local community and it is our privilege to support it to be the best it can both on and off the field. Our partnership not only supports the senior team but also the Pontypridd & Valleys Rugby Initiative which is ensuring a clear pathway, helping to develop potential players for our community clubs, schools, colleges, University, Premiership and Regional Rugby. I would like to wish Pontypridd RFC every success for this season and beyond."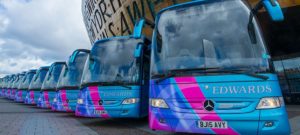 We are the award winning Edwards Coaches, a well established family business and one of Wales' leading premier tour operators boasting a history of innovation that began in 1925.
Nominated for six 'Best in UK' Industry awards 2018:
Operator Training Award
Best Use of Technology
Environment Award
Excellence in Minibus Operation
Coach Operator of the Year
Bus Operator of the Year