Return to News
Easter Kids Rugby Camp
Wed 21st March
The Easter school holidays are coming, and another Rugby Camp will be held at Sardis Road to keep the kids happy and active during the break.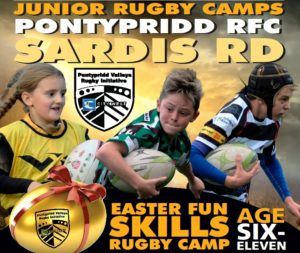 The Kids Rugby Camps are by now well established, and gaining in popularity, offering boys and girls the opportunity to remain active and occupied.
The Easter camp will run from Monday 9th to Friday 13th April between 9am and 1pm and will be open to boys and girls aged six to eleven. Each session is priced at £10 per child and will include skills and drills, mentored by experienced coaches, to suit the age appropriate pathway.
For more information or to book a place please contact Emma on: 01443 405006 / commercial@ponty.net