Return to News
DIGI 4 – LOTTERY FIRST DRAW 21-10-18
Wed 17th October
The first draw will take place on Sunday 21st October 2018 at 12.30 and the prize for the first draw is £1000.
DIGI4 is an online app available in the Apple Store for you to download and will this will allow users to enter the lottery draw from anywhere in the world providing you have access to the internet and have downloaded the app. Users will have access to Pontypridd RFC's lottery which operates the 4-number system whereby a player chooses 4 numbers between 1 and 24 and in order to win the jackpot all 4 numbers must be matched. Users will have instant access to Pontypridd RFC's draw, key information and lottery results.
At present, the app is only available at the Apple Play Store.
Proceeds from the lottery will used to help finance development projects at Sardis Road
Your lottery, made easy.
Our new lottery app is packed full of exciting features:
* Log in using your personal information
* Easy to access draws with a push of a button.
* Save debit card details that are safe and secure.
* Save your most used numbers.
* Set and edit reminders that update you on your chosen draws.
* See previous draws, active and upcoming draws.
* Get notifications for winning numbers.
* Set reminders and notifications.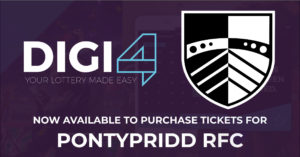 Pontypridd RFC / Media Team