Return to News
Cymoedd claim top spot in Schools & Colleges League
Thu 1st February
Coleg y Cymoedd have finished top of the WRU Schools & Colleges league and are now guaranteed a home draw as they progress to the semi finals of the knock-out stage of the competition.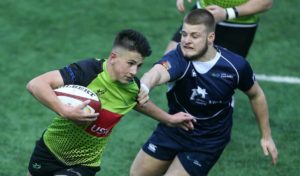 Despite losing their final league tie by 15pts to 0 away to Coleg Llanymddyfri on 24th January, Cymoedd had already guaranteed that vital top place finish with an away win against Ysgol Glantaf the previous week.
Coleg y Cymoedd have won ten of their twelve matches to top the league rankings, just edging ahead of second placed Coleg Gwent. A home semi final is now guaranteed, to be played on 13th or 14th February, with Coleg Gwent, Ysgol Glantaf and Coleg Sir Gar also still in the competition.
Appraising his squad's success, Coleg y Cymoedd Director of Rugby Lee Davies commented: "It's been a great achievement to finish top of the Schools & Colleges League, against some formidable opponents.
"The final two fixtures were tough as we lost twenty-seven players to the Blues North squad, but that gave us an opportunity to blood the youngsters who will step up next season.
"We can now re-focus on the play-off stages of the tournament and will be going all out to claim the Schools & Colleges title."