Return to News
Coleg y Cymoedd – champions!
Wed 28th February
Coleg Y Cymoedd are Welsh Schools & Colleges U18 League champions once again.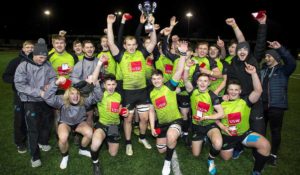 The Blues regional college gained revenge on arch-rivals, and reigning champions, Coleg Sir Gar to prove they are the best side in Wales with a 29-10 win at Sardis Road. It was their third title in four years.
Having beaten Sir Gar 52-20 at the same venue in the regular league season the home side went into the game full of confidence. They won 10 of their 12 league fixtures and defeat Ysgol Glantaf in the semi-finals to set-up a revenge match with the champions.
Sir Gar had scored 27 unanswered points in the second half of last season's final to rip the trophy out of the hands of Cymoedd, who had looked set for a hat-trick of titles. But there were never any doubts this time.
The Cymoedd pack reigned supreme and denied their opponents the quick possession they craved to release their speedy and skilful back division. Boasting a dozen members of the current Wales Under 18 squad, and based on the Scarlets side that won the Regional Age Grade Under 18 title, Sir Gar presented a formidable challenge.
Both skippers got on the score sheet in the first quarter as Callun James got Cymoedd on the scoreboard with a 12th minute try and then opposite number Gethin Davies replied five minutes later for Sir Gar. James went on to get a second touchdown before the break.
His first effort owed everything to a long, cut-out pass from outside half Cavan Slade from a quick ruck 10 metres out from the Sir Gar line. The ball didn't go to hand, but a kind bounce saw it pop up for lock Cian Lewis-Hughes, who had the simplest of tasks to send James over unopposed for a try that Slade converted.
Sir Gar responded with a perfect driving line-out try. Jac Price leapt high and flanker Davies was driven over in the left corner to cut the gap to two points, but a Slade penalty took Cymoedd's lead out to five midway through the opening period.
That advantage grew further when James pounced on a mistake at the back of a Sir Gar scrum must inside their 22. The ball squirted out of the side as scrum half Dylan Morgan was waiting for it at the feet of his No 8 and James simply picked up the ball and raced 20 metres to score a sucker try that Slade improved.
That gave Cymoedd a handy 17-5 lead at the break, but they had been here before. Last season their half-time lead had been even bigger, yet 27 unanswered points from a resurgent Sir Gar had swept them to a 27-23 victory.
The first score after the break was going to be crucial and it took Cymoedd only two minutes to increase their lead. Scrum half Nathan Griffiths fed the ever-eager Lewis-Hughes to carry hard into the Sir Gar midfield in the middle of their 22 and when they ball was recycled it was clever centre Ioan Evans who caused mayhem in the defensive line with his direct running.
His one-handed off-load to the supporting Iwan Price-Thomas allowed the full back to bounce off opposite number Harri Doel before twisting out of lock Ryan Evans' tackle before stretching out to score a try that made it 22-5.
Sir Gar needed to find a response, and quickly, and a try wide out on the left by wing Eray Wilson after a long pass by outside half Llew Smith at least gave the champions something to build on as they battled against the odds to hold onto their title.
They were forced to chase the game and the luck of the bounce deserted them when Smith attempted a risky chip over the top from inside his 22. The ball bounced perfectly for Cymoedd wing Liam Lloyd, who cut straight through a fractured, and tiring, defence to score a try at the side of the posts that Slade converted to complete the scoring.
It was a very proud Cymoedd captain, Callun James, who received the trophy from Geraint John, Head of Rugby Performance at the WRU, as he made up for the disappointment of being on the losing side last season.
Scorers: Cymoedd: Tries: C James 2, I Price-Thomas, L Lloyd; Cons: C Slade 3; Pen: C Slade.
Sir Gar: Tries: G Davies, E Wilson
Coleg Y Cymoedd: Iwan Price-Thomas; Will Clapham, Leon Davies, Ioan Evans, Liam Lloyd; Cavan Slade, Nathan Griffiths; Garyn Phillips, Ieuan Morris, Fraser Hughes, Cian Lewis-Hughes, Mitchell Barnard, Ioan Davies, Callun James (captain), Ieuan Pring
Reps: Garran Williams, Matthew Isles, Iestyn Haskins, Cerith Lloyd, Kyle Evans, Iwan Sheppard, Morgan Price, Mason Thomas
Coleg Sir Gar: Harri Doel; Dean James, Joe Roberts, Osian Knott, Eray Wilson; Llew Smith, Dylan Morgan; Keelan Jewell, Dom Booth, Adam Thomas, Ryan Evans, Jac Price, Cam Lewis, Gethin Davies (captain), Sam Williams
Reps: Josh Bowen, Llew Phillips-Taylor, Dafydd Millward, Joe Scott, Jac Morgan, Jac Howells, Bradley Roderick, Tom Evans