Return to News
Coach travel to Ebbw / Teithio i Lyn Ebwy
Mon 13th January
Pontypridd travel to face Ebbw Vale in the Premiership on Saturday 18th January, with the Supporters' Club providing coach transfers to the venue.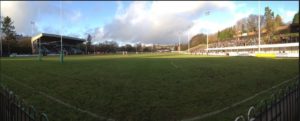 The match at Eugene Cross Park (above) kicks off at 2:30pm. Coaches will depart Sardis Road at 1pm and will return after the final whistle.
Parking around the Ebbw Vale stadium is restricted – travelling with the Supporters' Club offers a convenient and cost effective means of following Ponty on the road. To book on the coach to Ebbw please contact Phil Lycett on: 01443 662561.
Mae Pontypridd yn teithio i herio Glyn Ebwy yn yr Uwch Gynghrair ar ddydd Sadwrn 18fed i Ionawr, gyda'r Clwb Cefnogwyr yn cynnig taith ar y bws i'r fan a'r lle.
Mae'r gic gyntaf ym Mharc Eugene Cross (llun uchod) am 2:30pm. Bydd y bysiau yn gadael Heol Sardis am 1pm ac yn dychwelyd wedi'r chwiban olaf.
Mae llefydd parcio o amgylch stadiwm Glyn Ebwy yn gyfyng – mae teithio gyda'r Clwb Cefnogwyr yn cynnig modd hwylus a rhad o ddilyn Ponty ar yr hewl. I sicrhau sedd ar y bws i Lyn Ebwy ffoniwch Phil Lycett: 01443 662561.
Wordsearch
taith : journey
gadael : leave
dychwelyd : return
hwylus : convenient