Return to News
Coach travel to Aberavon
Mon 9th April
Pontypridd head west to Aberavon for their next Premiership engagement on Saturday 14th April, the match at the Talbot Athletic Ground kicking off at 2:30pm.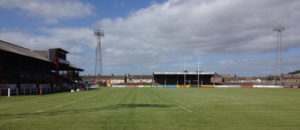 The Supporters' Club have all the travel arrangements in hand with coaches departing Sardis Road at 1pm, to return after the final whistle.
With very limited parking in the streets around the Aberavon stadium, booking on the Supporters' Coach offers a convenient and cost effective way to travel to the away match.
For more information, or to book a seat on the coach to the Talbot Athletic, please contact Phil Lycett on: 01443 662561.