Return to News
Coach travel to Aberavon / Cludiant bws i Aberafan
Tue 11th September
Pontypridd's next Premiership engagement is an away tie against Aberavon on Saturday 15th September. The Supporters' Club are organising coach travel to the venue.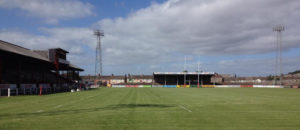 The match at the Talbot Athletic Ground kicks off at 2:30pm. Supporters' coaches will depart Sardis Road promptly at 12:45pm and will return after the final whistle.
With parking spaces in the streets around the Aberavon stadium being limited, travelling on the Pontypridd Supporters' coaches offers a convenient and cost effective way to follow the team.
For more information or to book a seat on the coach please contact Phil Lycett: 01443 662561.
---
Yr her nesaf yn yr Uwchadran i Bontypridd yw wynebu Aberafan oddi cartref ar ddydd Sadwrn 15eg o Fedi. Mae'r Clwb Cefnogwyr yn trefnu cludiant i'r lleoliad.
Mae'r gic gyntaf ar faes y Talbot Athletic am 2:30pm. Bydd bysiau'r cefnogwyr yn gadael Heol Sardis yn brydlon am 12:45pm ac yn dychwelyd ar ol y chwiban olaf.
Gyda llefydd parcio yn brin yn y strydoedd o amgylch stadiwm Aberafan, mae teithio ar fysiau'r Clwb Cefnogwyr yn cynnig ffordd hwylus a fforddiadwy o ddilyn y tîm.
Am fwy o wybodaeth neu i archebu sedd ar y bws, cysylltwch a Phil Lycett: 01443 662561.