Return to News
Chase the egg – at walking pace
Tue 13th February
'Walking Rugby' is a popular new sport that is spreading quickly across the UK, and is now being introduced to Pontypridd, with sessions to be held on the 3G pitch at Sardis Road.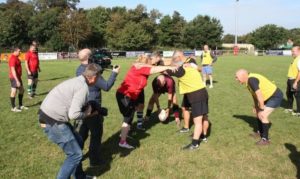 The game is open to everyone – former players, injured players, non players, and of all abilities. It offers a great opportunity to be active, make friends and have fun.
The sessions at Pontypridd RFC will commence on Thursday 1st March from 11am to 12 noon. Anyone interested can contact Paul Nagle: paulnagle@tabstraining.co.uk
Walking Rugby – the basics…
Walking Rugby is a simplified version of Rugby suitable for all ages, abilities & genders and being a competitive passing game, suitable for ex-Rugby players, injured and rehabilitating current players and those interested in Rugby without any experience! Those past retirement age can still indulge in their passion without the full-on contact – or those wishing to keep up their activity levels can try a new sport. Walking Rugby is a great leveller and you do not need to be fit – we can work on that together. You do need a certain degree of mobility but as we are open to all genders and ages – a 'team' means you all work as one.
What you need to know:
No running – walking determined by one foot on the ground at any time when in motion
No contact – similar to 'touch rugby' rules – two hands on shorts is all the contact made which qualifies as a tackle.
No Mauls or Rucks or Lineouts
Scrummaging – max 3 players per team stood in upright standing position and non-contested.
Passing backwards or lateral – offside rules apply
A try requires no bending – you walk across the try line ball in hand.