Return to News
Cardiff pre-match meal – 5th May
Mon 30th April
Pontypridd RFC will be holding a pre-match meal for the last home game of the season, against old rivals Cardiff on Saturday 5th May.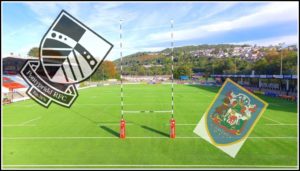 With the big match kicking off at 2:30pm, the hospitality event will get underway at 12:30pm in the Grandstand Lounge at Sardis Road.
Included in the ticket price of £25 per person, with individual places or tables of ten on sale, will be a sumptuous carvery meal, a match ticket and a question and answer session with players.
The meal will be served at 1:15pm where guests will be joined by players who will be on hand to answer questions from the floor. A Grandstand ticket will be provided for the big derby match, following which guests will again have access to the Grandstand Lounge to mingle with the players.
For more information or to book a seat at the dinner table, please contact Ponty Rugby Commercial Manager Emma Rogers on 01443 405006 / mail: commercial@ponty.net