Return to News
Captain's Blog 29/10/19
Tue 29th October
This is your captain speaking…
We had a mixed start to the season, losing at Cardiff when we should have won and then getting knocked out of the cup at Merthyr in the first round which was not ideal, but the boys have worked really hard to get things back on track with some big wins against the Quins, Ebbw and Bridgend. The last minute win at Bridgend last Saturday could prove to be a turning point this early in the season and showed how good the team spirit is at the moment.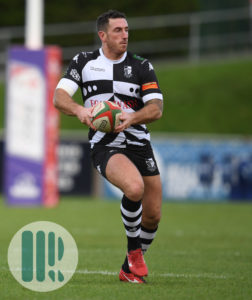 There are a lot of new faces in the squad, a lot of youngsters, but everyone is pulling together well and I feel the squad is tighter right now than it has been for a few seasons – there's been some good bonding off the pitch and that is starting to reflect in our game performances. The trip to North Wales was disappointing in terms of the result but gave the squad a chance to knit together, also with the new coaches, the supporters and the back-room staff who made the trip.
I'm sure things are moving in the right direction, and when we can get some of our experienced players back from injury – Dico and Shelly who we've missed big time – then that will also make a big difference. We've had some injuries in the centre positions as well, with Gary Williams and Alex Knott both missing, which means that I'm playing every game. Its tough going as I didn't have much of a pre-season due to injury but I'm determined to keep going, to stay injury free from now on and to enjoy my last season at senior level with Ponty.
We need to pick up some important wins now before Christmas then really push on to challenge for the league title. Aberavon at home on Saturday will be a massive game, their league position and their 100% record shows how good a team they are, but we have an impressive record against them at Sardis and we have to make that count. We'll need a good turn out of support on Saturday, a good atmosphere to help us get over the line and get a big win that could really set us up for the rest of the season.
Dafydd Lockyer
29/10/19