Return to News
Axiom remains a permanent fixture at Sardis Road
Tue 14th August
One of the UK's leading contract electronics manufacturers, Axiom Manufacturing Services, has renewed its partnership with Pontypridd RFC.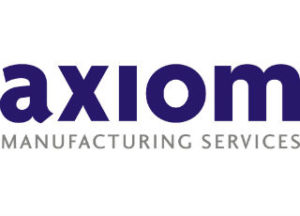 The Newbridge-based specialist manufacturer of electronics for the medical, industrial, aerospace and defence industries will be well known to club supporters and visitors to Sardis Road. The alliance between Ponty  RFC has existed since 2013, a tribute to the values and goals both share.
David Davies, managing director of Axiom Manufacturing Services, said: "Axiom is proud to continue its partnership with Pontypridd RFC for the 2018-19 season. Like us, the club's success is rooted in its commitment to its community.
"Both Axiom the club recognise that continued success requires dedication, hard work and a focus on fostering new talent. Just as Pontypridd's players inspire the next generation to take to the pitch, Axiom's apprenticeship and graduate programmes exist to ensure that tomorrow's engineers realise the high-tech careers that are available here in Wales.
"We look forward to watching another successful season at Sardis Road from the Axiom Terrace."
"David has been very clear in Axiom's commitment to the community, and the continued sponsorship allows us to invest our  resources into the community game" added Emma Rogers, Ponty Rugby Commercial Manager.
"Its vital that the next generation are given every opportunity to flourish with skills that will last a lifetime, on and off the pitch. We are delighted that Axiom have continued their sponsorship of the AXIOM enclosure and the sleeves of the playing and replica jerseys.
"We very much look forward to seeing David and his team at the games."
About Axiom Manufacturing Services
A multi award-winning contract electronics manufacturer, Axiom specialises in the assembly of state-of-the-art printed circuit board and electromechanical equipment for the customers in the medical, aerospace and defence, security, and industrial markets.
Working in partnership with local college, Coleg y Cymoedd, Axiom's renowned apprenticeship programme, which is committed to taking on a minimum of two new apprentices annually.
The company's graduate scheme allows degree level candidates to experience each of the company's business support and manufacturing departments, before selecting a specialist field.
Additionally, Axiom's flagship 12-month internship programme allows students studying towards relevant degrees with local universities to first-hand industry experience working within the company, before the completion of their studies.
For more information, please visit www.axiom-ms.com/careers