Return to News
Unsocial Sardis
Tue 6th October
As the prolonged close-season continues, with no indication of a return to playing rugby at Premiership level, Pontypridd RFC remains in shutdown.
In addition to a recent deferral of all training and activities on the pitch – which in the RCT borough has now been lifted but with restrictions still in place – the club as a social venue is also in hibernation.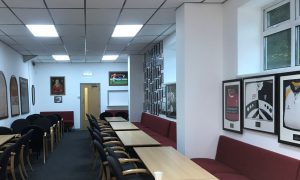 Pubs and clubs were given the green light to reopen indoors by the Welsh Government back in July, although within stringent guidelines. For the Pontypridd RFC Clubhouse and other bars to open up in such circumstances posed a considerable financial risk, where the costs of providing bar staff and health and safety measures to combat the Covid-19 virus could have far outweighed any income generated.
The Clubhouse primarily is a social venue in relation to the playing of rugby on the adjacent 3G pitch, whilst also a venue for organised events such as conferences, parties, weddings and funerals.
Club officials took the measured decision that the risks of opening up at a time when no rugby was being played and no events being organised could be hugely detrimental. With hindsight, as local restrictions and curfews have been imposed in the Rhondda Cynon Taf borough due to a 'second wave' of Covid cases, that decision has been justified.
Whilst Pontypridd RFC normally prides itself on the warm welcome extended to all who visit, the doors will unfortunately remain firmly closed for the foreseeable future.