Return to News
Tribute to Bernard Jones
Mon 26th February
The funeral took place last week of Bernard Jones, who as a director of Just Rentals and Buy as you View, was a core sponsor of Pontypridd RFC and underpinned the success of the club during its golden era in the 1990s.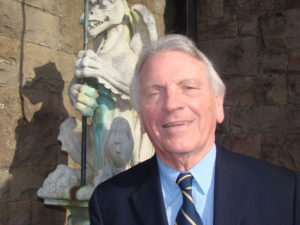 Bernard Jones founded Just Rentals with his associate Gerald Coleman in 1972, the company later changing its name to Buy as you View. The business was built up to be one of the most successful in the UK and Jones became a benefactor of many charitable causes, with research into cancer and kidney disease to the fore.
He also invested in his passion for brass bands, helping the Cory Band achieve great success with his financial backing.
For Pontypridd supporters, the brand name of Just Rentals / Buy as you View emblazoned on the team shirts will always be synonymous with the successful years of the 1990s and into the new century.
One player who was right in the mix at that time, and was given employment by Bernard Jones, was Dale McIntosh (pictured above).
Paying tribute to his former mentor, McIntosh said: "Bernard Jones was an icon of Valleys Rugby. He touched a lot of people, individually and collectively, with his generosity. I owe him a lot as he gave me an opportunity to prove myself and kept me on the right tracks, giving me guidance and keeping me honest.
"Bernard and Gerald were there watching us in almost every game, they took a real interest in what was going on and in what Pontypridd RFC stood for. They put so much into grass roots rugby, and into helping youngsters improve themselves, it was no fluke that with their support Ponty achieved so much."
Ponty Rugby Chief Executive Officer Stephen Reardon added his own tribute to Bernard Jones:
"The role that Bernard played in the unprecedented success of Pontypridd RFC in the 90s was hugely significant. His contribution in mentoring young players and coaches to develop continued with the Rhondda Schools. He will be fondly remembered and respected by many and his legacy will be a significant one."
The sincere condolences of all at Pontypridd RFC go to the family of Bernard Jones in their time of loss.