Return to News
The day Brett Davey lived the dream
Thu 9th July
S4C will be screening the 2002 Welsh Cup Final between Pontypridd and Llanelli this coming Saturday as one of their classic archive re-runs.
The match stands out in the memory for many as "Brett Davey's Final" – the unassuming Ponty full back scoring all his side's points in a thrilling 20pts to 17 victory played out in front of a 40,000 plus crowd at the National Stadium.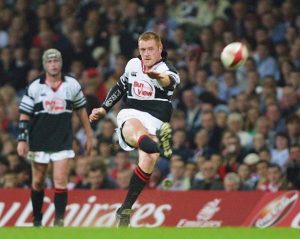 It was a watershed season for Pontypridd, claiming the Welsh Cup and a week later going down to an agonising defeat against a star-studded Sale Sharks team in the Parker Pen European Shield Final, before the following year being sacrificed as a professional entity on the altar of 'regionalisation'.
Brett Davey typified the underdog spirit of Pontypridd on that cup final day, the crucial kick coming a full eight minutes into time added on to win the match and the trophy.
It was a climax of which the Ponty full back had a premonition, perhaps preparing him for the big moment.
"I had a dream in the week that the final would come down to a last-minute penalty," said Davey. "All I was concerned about was connecting with the ball properly and not scuffing it.
"We were perhaps fortunate to still be in the game at that stage because Llanelli had threatened to pull away early in the second half, but we were blessed with character and grit and we were strong when it mattered.
"Taking that kick was the moment I had been waiting for all my career."
Davey's kicking ability was never in doubt – he also claimed an all-important touchdown twelve minutes from time following a dummy and break by centre Sonny Parker and earlier had completed a try-saving tackle and turnover on powerhouse Llanelli prop Martyn Madden at the other end of the field.
So it was that Pontypridd claimed their final piece of silverware as a professional team, and Brett Davey lived the dream as a match-winner.