Return to News
Testimonial Year an honour for Shellard
Mon 23rd September
An exciting year for one of Pontypridd's greatest players of the semi-professional era awaits as Rhys Shellard celebrates his testimonial year at the club.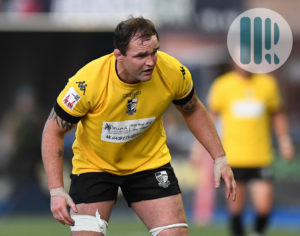 As he enters his 12th season with the club and with over 250 appearances under his belt, the 34-year old has fond memories of his time at the House of Pain.
"I was just a pup when I first came into a squad that included the likes of Dale Mcintosh and Paul John" said Shellard. "Now, a few years down the line and I'm one of the oldest in the squad which seems crazy.
"It's  down to the likes of me, Daf and a few of the senior boys to remind the younger players in the team what Ponty is all about, and that its always an honour pulling on that jersey".
Shellard will be looking to make the most of fund-raising events such as the successful Golf Day at Whitehall that took place earlier in the summer.
"I really enjoyed the Golf Day in July and hopefully we can arrange the next fund raiser shortly. The plan is to have a dinner just before Christmas with my dad and a few other legends involved in a Q&A session".
Shellard's father Mike also played in the back-row for Pontypridd in the 70's alongside Chris Seldon and Tommy David. The two currently share an incredible stat of both father and son playing the exact number of games for the club.
"I remember coming off the bench in Bridgend to make my debut and it was a great feeling following in my father's footsteps. I believe that he made 255 appearances for Pontypridd, which to date is exactly the same number of appearances I've made for the club which is pretty amazing" said Shellard.
Having followed his dad as a flanker, the choice of picking his all-time best back-row was a tough one as Shellard said, "I don't think I've ever played in a poor back-row with Pontypridd.
"You had the likes of Nathan Strong who was a great leader, as was Dan Godfrey. I also enjoyed playing alongside Wayne O'Connor and Lee Evans who were both fantastic players, but I have no favourites as I enjoyed playing week in, week out with whoever was in the pack with me".
Having departed Sardis Road in 2008 in search for regular game time with Cardiff, Shellard made his return to the Ponty fold in 2012.
"It was a great feeling coming back to Sardis Road and  I needed to hit the ground running after Ponty had won the Premiership the year before. Luckily, we had a great side and we managed to win the league a further three times in my first three years back at the club which was sensational.
"One of the standout games for me was beating Llanelli in the League Play-Off of 2013, and that year we were just on fire. I remember missing the Welsh Cup final a few weeks before, so I was busting to get out there against a Llanelli side that contained many Scarlets players such as Gareth Davies and Jake Ball. We rocked up that afternoon and  completely blew them out of the water ".
Things have changed quite a bit in the four years since Pontypridd's last Premiership title with the emergence of Merthyr and Cardiff, but Shellard believes this current squad has what it takes to compete for honours.
Nathan Parker – Pontypridd Media Team