Return to News
Star names line up for Lockyer testimonial
Thu 3rd May
Pontypridd captain Dafydd Lockyer's testimonial year will reach its grand finale with a benefit match to be played at Sardis Road on Saturday 19th May 2018.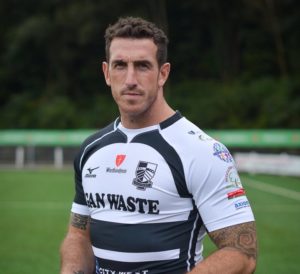 A Lockyer Select XV featuring many former favourites from the past fifteen years  will take on the current Pontypridd squad in a match that will kick off at 5pm. Unfortunately the main man himself will not be taking part due a fractured ankle but is nevertheless sure to feature prominently in the off the field activities.
A buffet meal will be served in the Clubhouse Bar from 3pm before the big match kicks off at 5pm. Celebrations will then continue into the night with a social event featuring a live act and a chance to mingle with the players, past and present.
The Lockyer Select Squad:
Backs:
Adam Thomas; Kristian Baller; Richard Carter; Gareth Wyatt; Dan Hitchings; Owen Williams; Lewis Williams; Dafydd James; Gavin Dacey; Tom Reilly; Simon Humberstone; Ceri Sweeney; Neil Burnett; Dai Flanagan; Gareth James; Andrew Jenkins.
Forwards:
James Howe; Louis Jones; Sam May; Ryan Harford; Keiron Jenkins; Craig Evans; Ashleigh James; Craig Locke; Lou Reed; Grant Harrington; Chris Dicomidis; Lee Evans; Jake Thomas; Wayne O'Connor; Ed Siggery; Rhys Shellard; John Smith; Nathan Strong.
The squad will be coached by Dale McIntosh and Wayne Evans.
Hospitality Tickets for the Testimonial Match, which will include a buffet meal, match ticket and access to the evening event, are now on sale priced at £20 per person with tables of ten available for booking.
Match tickets will be priced at £10, again with access to the evening event.
All proceeds from the day will go to Dafydd Lockyer's testimonial fund.
All enquiries should be made to:
Jake Thomas – 07918360836/ Owen Sheppeard – 07826851470