Return to News
Sieniawski's double take
Fri 13th July
Following a hugely impressive first campaign with Pontypridd RFC, dynamic back rower Morgan Sieniawski was nominated for two awards in the Supporters' Club Player of the Year end of season celebration.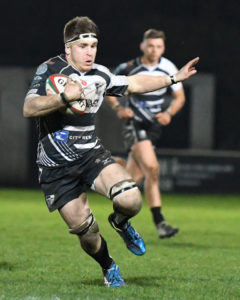 Resulting from a fan's poll Sieniawski was given the Stuart Williams Memorial Award for Forward of the Year, and was also voted as Players' Player of the Year by his fellow squad members.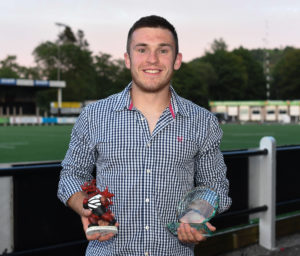 The double award fairly reflected a successful season for the young flanker, during which he had excelled in an effective back row unit.
The statistics show that Sieniawski made 27 appearances during the course of the campaign, 26 of those in the starting line-up, and scoring 7 tries. Those bare figures however do little to reflect the Pontypridd youngster's immense contribution in his first season with the club since joining from the Blues Academy.
Sieniawski was doubly delighted to receive his awards, both of which meant so much to him.
"To be honoured in this way was not something I expected" said Sieniawski. "There were so many stand-out performers in the squad last season who would have been worthy winners, I still can't believe that the awards came my way.
"The Stuart Williams memorial award means a lot to us as a squad, and then to be also nominated by my fellow players was something extra special.
"I've always wanted to play for Ponty and my first season with the club went well, I really enjoyed my rugby and to top it all off with two awards is a great feeling."
The young back rower benefited from playing alongside the experienced Rhys Shellard, although accommodating the two in the starting line-up often saw Sieniawski starting in the no8 position.
"Rhys is a player I've always looked up to, he's got tons of experience but shares that on the field, a big leader and good to play alongside. I've been used to playing at 8 in my college and youth days and I can enjoy that role, having more time on the ball and carrying, as well as the open-side flanker role."
The proud owner of two club awards, Morgan Sieniawski will now press on with his second season in Ponty colours, determined to prove that the success of his first was not a case of beginners luck.