Return to News
Sardis Ground Force
Sat 5th October
A small but dedicated group of volunteers turn up in all weathers, all days of the week, to keep the Pontypridd RFC stadium in good shape.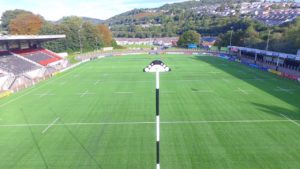 Headed up by club director Jack Bayliss, the volunteer force carry out essential maintenance and repair work at the ground week in, week out.
One of the work group, Mike Edwards, has this week decided to call it a day after many years dedicated service to the club. His contribution was an important one that will be missed, according to Jack Bayliss.
"Mike has been with us for longer than I care to remember" said Bayliss. "He has now opted to put his tools on the bar and we thank him for the effort that he has put in.
"We are a small team that look after the ground and to lose Mike's contribution will be a blow. Thankfully we have a new volunteer, Mike Williams, who will step in to fill his boots."
Under the supervision of Jack Bayliss, the Sardis Ground Force is made up of Colin Humphreys, Watkyn Davies, Alan Lewis, Martyn Morgan and Mike Williams.