Return to News
First step for Walking Rugby at Pontypridd
Thu 8th March
The first Walking Rugby session was held at Sardis Road on Thursday 8th March and was greatly enjoyed by those taking part.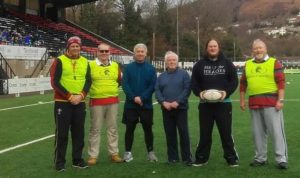 Pontypridd RFC is proud to be the first club in Wales to link up with the new sport of Walking Rugby and the hope is to build upon the first steps taken to form a team representing club and community.
Regular sessions will be held at Sardis Road from 11am until noon on Thursdays. The sessions will be open to all and will give people an opportunity to remain active, to make new friends and to have fun.
The game, which allows people of all ages and ability to participate, is already taking off in England with clubs in Gloucester, Bristol, Reading and other locations.
Invitations are already coming in for Pontypridd to play against some of these clubs, and the aim is to see an expansion of clubs in Wales and ultimately to see a national team created.
The Walking Rugby venture is supported by Taff Ely Primary Care Cluster and is sponsored by Men's Sheds Wales and Play It Again Sport.
For more information on Walking Rugby at Pontypridd please contact Paul Nagle: paulnagle@tabstraining.co.uk