Return to News
Pontypridd RFC 76 : 38 Neath RFC Match Report
Sat 6th October
Pontypridd 76 v Neath 38
Sat 6th October 2018, 14:30, Sardis Road Principality Premiership
Supporters of both sides certainly got their money's worth on Saturday afternoon as Pontypridd and Neath shared 114 points and 17 tries in a pulsating Principality Premiership match at Sardis Road.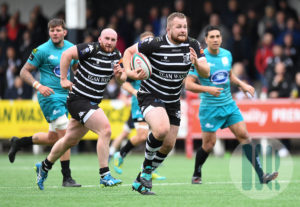 It was the Welsh All Blacks who got the points scoring going through former Pontypridd favourite Aaron Bramwell who got the first try of the match after good work by veteran kiwi Regan King. The home side bounced back quickly though as prop Gareth Smith steered a driving maul over the line to put Pontypridd on the scoreboard.
A quarter of the way through the game, the jugular started to show for Neath as they were hit with double whammy. Having allowed Ponty wing Corey Howells to score his third try in two games, the away side were then lost prop Ryan Thomas to the sin bin after conceding Neath's eighth penalty in 20 minutes.
Worse things were yet to come for Neath as they conceded three further tries in what remained of the first half. Captain Dafydd Lockyer, flying winger Dale Stuckey and versatile fullback Ben Jones added their names to the scoresheet after Callum Hall had kicked a 40-metre penalty goal to make the half time score 29-10 to Pontypridd.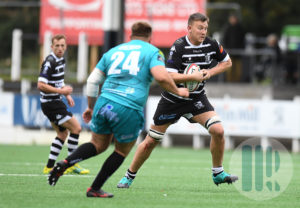 It was the home side who got the first try of the second half as Number eight Morgan Sieniawski linked up with Jamie Hill to give the Scrum Half a free run to the line to further Ponty's lead. Sieniawski's opposite number Ieuan Jones was then sent to the bin after a late shot on Alex Knott in the lead up to the try.
The Welsh All Black's managed to make a game of it moments later though as the home side conceded three tries in a crazy five-minute spell, with Mike Evans and Lloyd Evans' brace earning Neath a bonus point. After a 26-point lead was reduced to four, Ponty Coach Justin Burnell made changes to his side and it certainly made a difference.
Gareth Smith and Dale Stuckey both got their second tries of the match before a superb pass by Ceri Sweeney put Alex Knott through for Ponty's 10th score of the afternoon. With the floodgates fully opened, Rhys Shellard and Joe Popple rounded up the tries for the home side moments before Mike Evans' consolation finish for Neath. Pontypridd travel to Swansea next weekend and if its half as good as this match, then the traveling supporters will be in for a treat.
Pontypridd:
15.Ben Jones. 14.Corey Howells (Alex Webber). 13.Alex Knott. 12.Dafydd Lockyer – cpt (Tom Riley). 11.Dale Stuckey. 10.Ceri Sweeney. 9.Jamie Hill (Dai Francis).
1.Ian George (Huw Owen). 2.Huw Dowden (Joe Page). 3.Gareth Smith (Joe Popple). 4.Shay Smallman. 5.Chris Dicomidis. 6. Lloyd Evans (Rhodri Jones). 7.Rhys Shellard. 8. Morgan Sieniawski (Steffan Jenkins).
Tries: Smith (8); (63), Howells (19), Lockyer (32), Stuckey (34); (66), Jones (39), Sieniawski (49), Hill (59), Knott (70), Shellard (73), Popple (76).
Cons: Sweeney (33,) (35), (50), (60), (64), (67), (71), (77).
Neath:
15.Callum Hall. 14.Mike Evans. 13.Aaron Bramwell. 12.Gavin Evans. 11.Ian Ellis. 10.Regan King. 9.Chris Morgan.
1.Luke Garrett. 2.Sion Crocker. 3.Ryan Thomas. 4.Rhys Jones. 5.Ryan Bean. 6.Jordan Collier. 7.Lloyd Evans. 8.Ieuan Jones.
Tries: Bramwell (2), Mike Evans (55); (79), Lloyd Evans (52); (57).
Cons: Hall (3), (53), (56), (58), (79).
Pens: Hall (29)
Report by Nathan Parker – Pontypridd Media