Return to News
Ponty v Quins – post match reaction
Sun 22nd September
Pontypridd battled to a narrow 20pts to 17 victory over visitors Carmarthen Quins on Saturday 21st September, in what was a physical, sometimes attritional encounter. Despite being outscored on tries by three to two, the Valley Commandos showed enough resolve to hold out for a crucial first win of the season.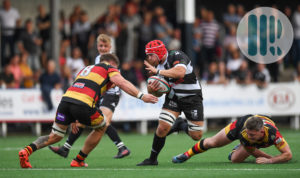 Ponty Director of Rugby Justin Burnell was relieved to look back on a winning performance after the final whistle.
"That was overall a typical Ponty performance" said Burnell. "We had our backs to the wall at times, we committed errors particularly in the first half, but we dug in, rectified the errors and did enough to claim the win.
"That was a much needed victory for us, it gives us a five point return from our first two league games and can give us something to build on as the season progresses."
Skipper Dafydd Lockyer left the field battered and bruised but satisfied with the result.
"It was good to get our first win of the season" said Lockyer, "especially against a tough Carmarthen team.
"It wasn't pretty from us at times, but we just kept going and ground out the victory. I felt we got what we deserved in the end. We committed errors, but we can work on that and we can only get better going forward from here."