Return to News
Ponty take a cautious approach out of lockdown
Tue 21st July
Pontypridd RFC like all other rugby clubs and social venues has been hit hard by the Covid-19 pandemic.
The past few months has seen the club in shutdown, the bars closed and the 3G pitch unavailable for hire.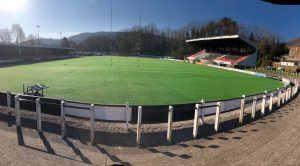 Recent Welsh Government announcements, mirrored by those from the WRU, might indicate the easing of lockdown and an escalation in activity. The steps being taken are cautious ones, and it is a policy of caution that is being followed by Pontypridd RFC.
In recent weeks the small crew of volunteers who carry out maintenance around the Sardis Road stadium have returned, adhering to strict social distancing rules. Some work has been carried out on the 3G pitch and a tidying of the surrounding areas.
Detailed discussions are on-going between the Premiership clubs and the WRU, as with other community level clubs, as to a possible route to resume training and playing. Ponty Rugby CEO Steve Reardon is the nominated Club Operations Manager  responsible for overseeing an adherence to Union directives.
An extensive programme of player registration and volunteer training must be carried out at all levels – Mini & Junior, Youth and Senior – before any training even in reduced numbers can be considered.
Pubs and clubs have been allowed to serve customers outdoors since 13th July and from August 3d can serve indoors. Again, Pontypridd RFC is taking a cautious approach to these measures, with a danger that any attempt to open up the bars would be a loss-making venture in the current climate of uncertainty.
If there is light at the end of the Covid tunnel, Pontypridd RFC will not be rushing towards it oblivious to risks in terms of the health of its players, staff and supporters and of its own finances. Any steps taken will be carefully measured ones and will be announced in good time.