Return to News
Ponty Rugby lines up to oppose hate crime
Sat 19th October
Pontypridd RFC was proud to team up with South Wales Police and Rhondda Cynon Taf Borough Council to promote 'National Hate Crime Awareness Week" which ran from 12th to 19th October.
Local police officers, representatives from the council, and members of the Pontypridd under 7s and under 8s squads took to the pitch before the home game against Ebbw Vale on Friday night to highlight the event.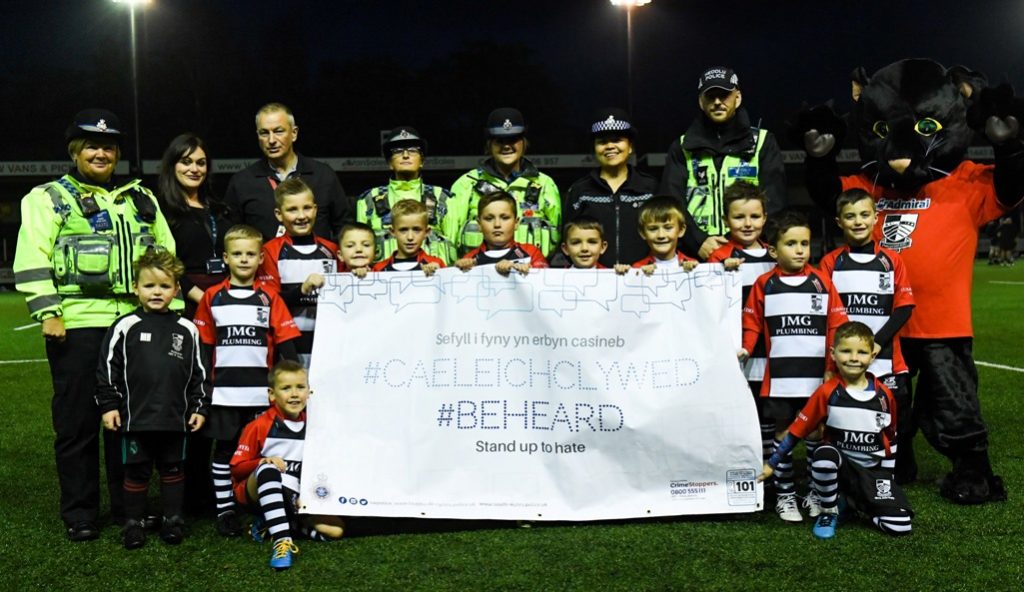 The House of Pain – no place for hate…
We live in a society that is becoming increasingly polarised, social and political opinions are drifting into the extremes, and there are consequences that we all have to endure.
Whatever one's political, religious or social views, and the validity of arguments across the spectrum, there can be no doubt that a mentality is on the rise of "us against them", or as the poet Rudyard Kipling once said – "all the people like us are we and everyone else is they".
This worrying trend in society is of course reflected in the pastime of a large percentage of the population – spectator sport.
Incidents of hate crime at football matches in England and Wales rose by 47% last season, according to Home Office figures, 79% of which related to race.
Anti-discrimination charity Kick It Out described the figures as "a serious concern".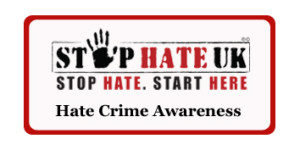 The definition of hate crimes in England & Wales as agreed by the Police Service, Crown Prosecution Service, Prison Service and other agencies is: 'any criminal offence which is perceived, by the victim or any other person, to be motivated by hostility or prejudice towards someone based on a personal characteristic.'
There are five centrally monitored strands of hate crime: race or ethnicity; religion or beliefs; sexual orientation; disability; transgender identity.
Rugby has not been immune from the rise in intolerance and bigotry, with verbal and even physical attacks carried out against popular figures such as Nigel Owens and Gareth Thomas due to their sexuality. Their courage in standing up to these attacks must be commended and supported.
Speaking on a recent BBC documentary, where he disclosed that he was HIV positive, Gareth Thomas said: "The reason I'm doing this is because firstly I want to remember what it's like to live again.
"I want to remember what it's like to feel free. And by doing that … I want to empower so many other people who are in exactly the same position as me, and probably ten times worse, to be able to feel free as well.
"Even though I have been forced to tell you this, I choose to fight, to educate and break the stigma around this subject."
Pontypridd is at the heart of the Valleys, a community that has strong radical traditions and a history of promoting diversity and acceptance.  As a focal point of that community Pontypridd RFC will stand firm in defending those values.
The club urges all its supporters to consider the message being put out this week – National Hate Crime Awareness Week. Be tolerant of others, be aware of each individual's identity and needs, celebrate diversity. At the House of Pain there is no place for hate.
The final words on this subject will go to leading academic, former Wales footballer and former chair of Sports Wales, Laura McAllister:
"Be really proud of the important values of sport around equality friendship, inspiration, diversity and the community focus of sport. If you keep remembering the power of sport then you wouldn't want to deprive any individuals of that no matter whether they were LGB or disabled or black. It is for everyone."
Guto Davies