Return to News
Ponty RFC out in force on Emergency Services Day
Fri 10th August
Members of the Pontypridd RFC squad along with Commercial Manager Emma Rogers joined in with the Emergency Services Open Day that was held in Ynysangharad Park on Thursday 9th August.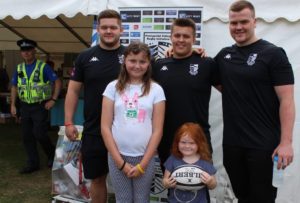 Visitors to the event were keen to chat to the players about the season to come, and the players themselves took the opportunity to hand out fixture lists and membership details which were  gratefully received. Mums and dads also gathered information about the forthcoming Rugby Camps to be stages at Sardis Road and future plans for the Pontypridd Valleys Rugby Initiative.
"The boys had a great time taking part in this event" said Emma Rogers.
"We are  proud to be part of a fantastic community and we value the opportunity to reinforce the engagement that rugby can offer."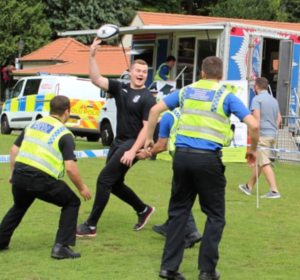 An impromptu game of touch rugby with the local PCSOs , followed by passing skills with children.
Pontypridd RFC is grateful to South Wales Police for the invitation to attend the event and looks forward to other opportunities to build a strong relationship with the local community.