Return to News
Ponty Oddballs
Wed 20th December
On a cold December night the Pontypridd squad bared all – well nearly all – to add their support to the Oddballs charity campaign and to promote the garments now available on sale to club supporters.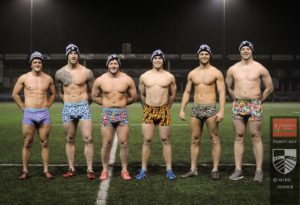 Oddballs has proved to be hugely successful over the past few months raising money and awareness for testicular cancer.
Pontypridd RFC branded Oddballs bobble hats are now on sale from the Club Shop at Sardis Road retailing at £15 each. This item will be an ideal stocking filler for Christmas and the shop will be open from 7pm on Thursday evening 21st December, and before the Ponty v Cardiff game on Saturday 23d December to cope with the expected high demand.
Supporters can also purchase Oddballs boxer shorts on-line – www.myoddballs.com – and use the discount code WELSHPANTS15 to obtain a 15% discount off their entire order.