Return to News
Ponty go down to defeat at Ebbw
Sat 25th September
The home team enjoyed most of the early possession, setting up camp in their opponents' twenty-two and converting pressure into points courtesy of a Lewis Williams penalty. For the first ten minutes of the contest Ponty were barely able to advance out of their own half as Ebbw showed up strongly in the set pieces and defensively coped with all attempts by the visitors to counter. Ponty finally generated some momentum from a scrum attack and sought to take advantage of a yellow card shown to Ebbw centre Ethan Phillips with a series of concerted drives into home territory, but Ben Burnell off target with a penalty attempt in front of the posts.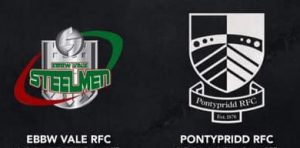 The Steelmen typically responded with a phase of power play, allowing Williams to plant another penalty kick between the posts. A dynamic surge by winger Euan Rosser maintained the home team's momentum before Ponty responded with a Morgan Sieniawski half break followed by a galloping charge from debutant no8 Sam Evans. The home pack however resumed control to see out the first period holding on to their 6pts to 0 advantage.
There was a dramatic opening to the second half, a fracas breaking out following a late tackle on Ponty full back Llywarch ap Myrddin, with Ebbw flanker Alex Grey sin-binned. Tempers remained frayed with both captains given a talking to before Ben Burnell opened Ponty's account through a successful penalty kick. The home team were aggressive in defence, even up in their opponents' twenty-two, creating an opportunity for Lewis Williams to cancel out the Ponty score with a penalty of his own.
The visitors were striving to put together some phases of attack, but with limited effect, during a period of play broken up by a series of injuries. Ponty finally settled for points on the board through another Burnell penalty and continued to press, but their endeavours hampered by handling errors. A tap penalty gave Ponty further momentum upfield but a Burnell cross kick aimed at winger Dale Stuckey just evading its target.
The contest was a real dogfight with a competitive edge going into its final quarter, Ebbw launching a kick and chase foray but Ponty winger Iwan Pyrs Jones intercepting to counter. The visitors were evidently attempting to move up a gear but it was Ebbw who struck back decisively from a wide attack, centre Dom Franchi up in support to claim the breakthrough try, converted by Williams. The Steelmen again worked hard to put their opponents in a vice, and despite another interception from Pyrs Jones, Ponty were toiling in vain, pegged back in their own half. Ebbw finished off the game strongly to seal a 16pts to 6 victory.
Ebbw Vale
15.Dan Haymond (Jordan Thomas). 14.Dafydd Howells. 13.Dom Franchi. 12.Ethan Phillips (Ryan Evans). 11.Euan Rosser. 10.Lewis Williams. 9.Matthew Flanagan (Che Hope).
1.Luke Garrett (Connor Chapman). 2.Joe Franchi © (Joel Harries). 3.Dave Whiting (Rob Sevenoaks). 4.Dan Hill. 5.Corey Talbot. 6.Scott Parsons. 7.Alex Grey (Ben Moa). 8.Ethan Doyle (Lewis Young).
Try: D. Franchi (64)
Con: Williams (65)
Pens: Williams (6, 23, 45)
Pontypridd
15.Llywarch ap Myrddin (Lloyd Rowlands). 14.Iwan Pyrs Jones. 13.Morgan Sieniawski ©. 12.Bradley Roderick. 11.Dale Stuckey. 10.Ben Burnell (Lloyd Wilkins). 9.Joel Raikes (Dafydd Buckland).
1.Ben Stephens (Lloyd James). 2.Rob Jones (Nathan Huish). 3.Morgan Bosanko (Tom Harper). 4.James Murphy (Jack Pope). 5.Chris Dicomidis. 6.Kristian Parker. 7.Cally James. 8.Sam Evans (Sion Parry).
Referee: Aled Evans
WRU Man of the Match: Kristian Parker