Return to News
Ponty battle to thrilling win over the Quins
Sat 21st September
The calm, cool and collected left boot of fullback Ben Jones sealed Pontypridd's first victory of the season over a stubborn Carmarthen Quins side.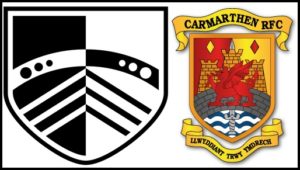 The Quins started with a spring in their step and found themselves camped in Ponty territory early on after Dale Ford claimed his teams own kick off. A try of their own making looked unlikely though with Pontypridd gifting the opposition possession unnecessarily.
After asserted pressure from the Valley Commandos, the ball went loose after Diggy Bird knocked the ball on into the hands of Morgan Griffiths who ran the 60 metres before offloading to hooker Torin Myhill who was cut down by the flying Stuckey.
The pressure on the Ponty line started to tell as the rangy lock Lee Taylor directed a driving maul over the line for the first score of the game. The response was immediate as Justin Burnell's men crafted a beautifully worked try on the stroke of half-time.
Having lost three lineouts on the bounce, Lloyd Evans claimed clean ball for Tom Rowlands who started and ended the move after some great interlinking play between Lockyer and Gary Williams in midfield saw the scrum half score in the corner.
Pontypridd managed to capitalise on Ifan Beynon-Thomas' yellow card in the early stages of the second half after a beautiful kick through from Ben Jones and tap inside by Webber saw winger Dale Stuckey run the ball in from 50 metres untouched.
The home sides joy was short lived though as two quick fire tries from Nic Reynolds and hooker Torin Myhill looked set to derail Ponty's quest for a first victory of the season. The tide turned though when skipper Dafydd Lockyer was tip tackled by fullback Dale Ford.
The ill indiscipline of the Quins cost them dearly as two kickable penalty kicks from Ben Jones sent the home crowd into raptures, basking in the glory of a first win of the season.
Nathan Parker – Pontypridd Media Team
Pontypridd:
15.Ben Jones. 14.Alex Webber. 13.Gary Williams (Ryan Davies). 12.Dafydd Lockyer – cpt. 11.Dale Stuckey. 10.Diggy Bird (Corey Sheppard). 9.Tom Rowlands (Joel Raikes).
1.Huw Owen (Ben Stephans). 2.Nathan Huish. 3.Morgan Bosanko. 4.Lloyd Evans (James Murphy). 5.Sean Moore. 6.Kristian Parker. 7.Sion Parry (Kyle Evans). 8.Morgan Sieniawski.
Tries: Tom Rowlands (40'), Dale Stuckey (49')
Cons:  Diggy Bird (40', 50')
Pens: Ben Jones (67', 74')
Carmarthen Quins:
15.Dale Ford (Jake Newman). 14.Geraint Llewellyn. 13.Nic Reynolds. 12.Scott Lloyd. 11.Morgan Griffiths. 10.Steffan Marshall (Jac Wilson). 9.Ifan Beynon-Thomas.
1.Kemsley Mathias (Oliver Evans). 2.Torin Myhill (Tom Ball). 3.Ben Leung. 4.Lee Taylor (Shaun Jones). 5.Haydn Pugh – cpt. 6.Ed Siggery (Ryan Bean). 7.Richard Bloomfield. 8.Lawrence Reynolds.
Tries: Lee Taylor (27'), Nic Reynolds (51'), Torin Myhill (54')
Cons: Steffan Marshall (28')
Referee: Dan Jones
WRU man of the match: Morgan Bosanko
Golden Bob man of the match: Dale Stuckey