Return to News
On-line Shop / Siop ar-lein
Fri 6th November
Pontypridd RFC launches its VX3 on-line shop at noon today – Friday 6th November – giving access to a wide range of high quality leisure wear and supporters' kits.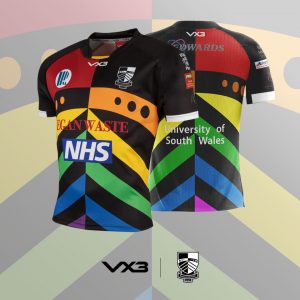 Following the launch of the exclusive new rainbow jerseys, the first tranche of sales were made directly from the club with a big uptake in orders.
The VX3 on-line shop now goes live, directly linked to the Pontypridd RFC website and giving unlimited access to all products available, including supporters' kit, training and leisure wear – all in time for that important Christmas shop.
The new kit partnership between Pontypridd RFC and VX3 is an exciting one and will ensure that players and supporters turn out looking at their best.
Log on to the club shop from noon today – browse and buy, your new Ponty branded VX3 kit is only a click away.
Mae CR Pontypridd yn lawnsio ei siop ar-lein gyda VX3 am hanner dydd heddiw – dydd Gwener 6ed o Dachwedd, gan gynnig ystod eang o ddillad hamdden a chrysau cefnogwyr.
Yn dilyn lawnsiad y crysau enfys unigryw, gwerthwyd y cyflenwad cyntaf yn uniongyrchol drwy'r clwb, gydag ymateb cadarnhaol ar archebion.
Mae siop ar-lein VX3 yn awr ar gael, gyda chyswllt ar wefan CR Pontypridd, yn rhoi dewis eang o gynnyrch o'r safon uchaf, gan gynnwys crysau cefnogwyr, dillad hamdden ac ymarfer – y cwbwl mewn da bryd ar gyfer y siopa Nadolig holl-bwysig.
Mae'r bartneriaeth cit newydd rhwng CR Pontypridd a VX3 yn un gyffrous fydd yn sicrhau y bydd chwaraewyr a chefnogwyr yn edrych ar eu gorau.
Ewch i siop y clwb o hanner dydd heddiw – porwch a phrynwch, mae eich cit Ponty VX3 newydd ar gael o fewn clic.