Return to News
Media Blog
Sun 10th December
Our new club website has been live since July and has received a positive reaction from supporters and partners alike.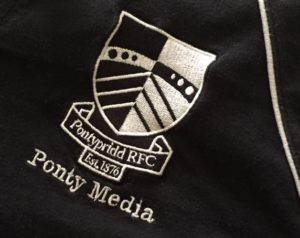 The Creo designed website, which is dynamic in its presentation and importantly provides a link to social media platforms, is visual proof that Pontypridd RFC is forward looking and determined to stay ahead of the game.
A review of the new site is being conducted and on-going adaptations will be made as required.
There is much information embedded in the site, and the best way to access an overview of all sections is simply to click on the home page menu. An easier way to view the latest news, fixtures and results is simply to scroll down the screen without having to re-direct to a menu.
The website is fully compatible with all devices and supporters can save sections such as news, fixtures or the forum, set as their favourites. The site is simple and effective as soon as users can adapt to its best use.
As a media team we continue to project all aspects of Pontypridd RFC to the wider world. We are also looking inwardly to reflect one of the great strengths of our club – its support. We are without a shadow of doubt the best supported club side in Wales and beyond and the fans deserve recognition for their unwavering commitment to the cause.
This season we are striving to give supporters a greater profile and voice. Our cameramen Mike Jones and Kevin Rudge on matchdays are pointing their lenses away from the pitch and on to the terraces to capture images of faces in the crowd – 'Pobol Ponty'.
A new feature in the matchday magazine is 'From The Shed' – a supporters' Q&A. Anyone wishing to complete the questionnaire to be published in the programme, please contact: media@ponty.net
The Ponty TV camera with presenter Grace Reynolds will also be looking out for supporters on certain game days to give their views on video, which will appear as a 'vox-pop' on the club's you-tube channel.
The popular Forum is now linked to the club website and can be found on the main menu. We encourage you to register and to contribute – the more that join in to create and expand discussions, the merrier!
As media officer I will also be interested to know the supporters' views on what we do, and any ideas on how we can make improvements, including your input on the club website. Send your thoughts to: media@ponty.net
Whilst we look to our inner strength, our work of projecting Pontypridd RFC to the wider world is continuing, and it seems to good effect. Our club is still recognised far and wide, as highlighted by a three day visit next week by national French rugby magazine 'Tampon'. The feature, which will focus on the history and tradition of our great club, its current status and its place within the structure of Welsh Rugby, will be published during the Six Nations tournament. "La verite est la!"