Return to News
Lockdown Blog – Howard Thomas
Sun 24th May
What strange times these are – I am missing 'Ole Ole Ole' so much!
The challenges imposed by this virus and the ongoing lockdown are indeed considerable for everyone, but somehow we must remain positive in the face of adversity. At times like this being a Ponty Supporter should help as we are all used to the kind of 'backs to the wall' resilience needed – we know all about battling against the odds don't we!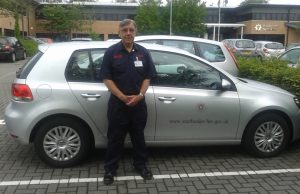 For my own part despite the many frustrations of the situation I manage to keep busy and working part time for the Fire & Rescue Service helps give me a focus. I have used countless video conferencing apps in recent weeks for virtual meetings of our team locally and across the UK, and technology has certainly helped in these times.
I also help coordinate a superb band of volunteers in the Pontypridd area supporting those most in need of various forms of support, some of whom were already badly hit by the floods in and around Pontypridd in February.
My heroes used to be almost exclusively those wearing black and white but right now, along with so many of you, I see a new group of heroes in these volunteers and all those people keeping the various essential services going, health and social care workers, emergency services, retailers, delivery drivers etc. etc. – a million thanks to you all!
I also spend a fair bit of time reading and catching up on DVDs etc. including of course many classic Ponty games which are a great watch.
I live on a farm so as well as trying to keep the garden tidy I have to maintain the fields and fences as best I can and keep an eye on the sheep and other animals. Having this space to roam and exercise, often with some hard graft involved, has been a great help, particularly with the marvellous weather we have had during much of the lockdown.
Being locked down has also given me the chance to appreciate the bird sound, wild plants and flowers and so on, which would previously have largely gone unnoticed. For those of us with smartphones there are great apps now which can help record and identify these things.
My wife and I very much enjoy our weekly catch ups with our children and grandchildren on our phones or tablet devices using Facetime, although of course it is not quite the same as meeting them face to face.
Anyway I hope that some form of normality resumes soon and that we can all come together at Sardis more united and resilient than ever. In the meantime I hope everybody connected in any way with our great club and indeed in our community in general keeps safe and well and support each other.  Ole Ole Ole Ponty!
Howard Thomas