Malcolm K. Thomas joined the First XV from Pontypridd Youth, when he made a name for himself as a versatile front row man, playing in all three positions.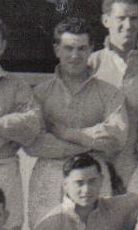 Malcolm's debut came on the 6th of September 1958 in a game against the capital city's Llandaf RFC. Malcolm played twenty games for the club till his last one in September 1960, versus Tredegar.
After departing Ponty in 1961, Malcolm went on to play for nearby Llantwit Fardre, captaining the club before finally joining Penarth, where he was both a player and an official over a period of some twenty years.
Malcolm Thomas: Prop/ Hooker 20 appearances 1958-1961