Return to News
Ground maintenance – volunteers needed
Sat 28th July
The call goes out from Pontypridd RFC for volunteers to assist with the ever increasing workload of maintaining the club's Sardis Road stadium.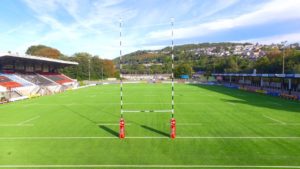 A small group of dedicated volunteers currently carry out all of the work. New faces and new hands are required.
The appeal goes out for those genuinely interested in helping with general maintenance and repair work on two or three mornings a week to get in touch.
Ponty Rugby director Jack Bayliss commented: "The upkeep of the Sardis Road stadium is like painting the Forth Bridge, as soon as you finish at one end you have to start again at the other. With so many activities now on-going on the new 3G pitch, the ground requires a lot of tlc.
"We have an ageing group of volunteers carrying out all of the work, and an injection of new blood would be greatly appreciated. We would welcome helpers with any maintenance skills, or just willing to pitch in with some elbow grease, but ask that only those genuinely interested apply.
"There is a lot of work to be done, but also a lot of banter and a good team spirit amongst the volunteers."
For more information, or to volunteer to assist, please contact Jack Bayliss on: 07533 481247.