Return to News
Going North, coming South – the Rugby League connection
Sun 18th October
Following recent discussions on the historical exodus of young black rugby players from South Wales to play the league code 'Up North', and the call for a statue of league icon Billy Boston to be erected in his homeland, club historian Alun Granfield focuses on the links between Pontypridd RFC and Rugby League…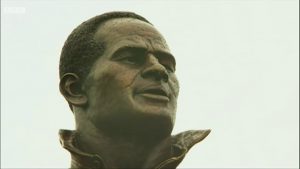 A few months ago, the 25th anniversary of a very important date in Rugby Union passed us by without notice in these difficult times. On 26th August 1995 the IRB declared the Union code an 'open' or professional game. One result of this decision was that Welsh players no longer had to take the high road to the north to earn a few quid from the sport. Instead, we saw a trickle of former union players returning to Wales and even a few league players coming to the sunny south to try their hand at the union game.
The first record I could find of a Ponty player 'going north' was the story of Oliver Morris, who was one of the key players in the Pontypridd team in the mid-to-late 1930s. An outside half, Oliver only weighed nine and a half stones, and when he turned professional with Hunslet in November 1937 his greeting in the dressing room was "eh up, we've signed another bloody rabbit." However, his pace and tremendous tackling made him a great favourite and he had gained two Welsh caps by the end of the season and a Championship medal as well. There was uproar when they sold him to Leeds in 1939, but unfortunately the war intervened after he had played only three games for his new club. Oliver became a Lieutenant in the Welch Regiment, and was killed in Italy on 21st September 1944 aged twenty-eight.
The next two Ponty players to go north when rugby resumed after the war were Ron Thatcher and Stan Owen. A young Ron Thatcher was mentioned as having played in Ponty's first game after the war on 8 September 1945. However, he then disappears from our story and must have turned professional in that season.
Stan 'Horse' Owen from Rhydyfelin was considered by many to be one of the hardest forwards ever to play for the club. Stan was in the Army in the 1951-52 season and represented the Army when they won the inter-services competition that season. He was then selected for the final Welsh trial the following season but turned professional with Leigh the day before the trial.
One of the greatest players ever to play rugby league was Billy Boston. Like many players from Cardiff's black and ethnic communities, Billy's opportunities in rugby union were limited. He was playing with CIAC's RFC in the 1952-53 season, and on Boxing Day 1952 he turned out for Pontypridd away against Cheltenham and scored our only try in that game. Unfortunately this was to be his only appearance for us, and the following season he turned professional with Wigan to become a legend in his new sport.
In more recent years we have seen the likes of Russell Robins (1959), Ken Leonard (1962), Brian Juliff (1978) and Chris Seldon (1979) turn professional from Pontypridd, and Tommy David joined the Cardiff Blue Dragons in 1981 as yet another failed attempt was made to form a Rugby League side in South Wales.
When the union game went professional in 1995 a few league players came home again to Wales, and Pontypridd was lucky to gain the services of one of the best of them. After a very successful 14-year career in the league game, including 12 caps for Great Britain, Phil Ford played 24 games for Ponty in two seasons between 1996 and 1998.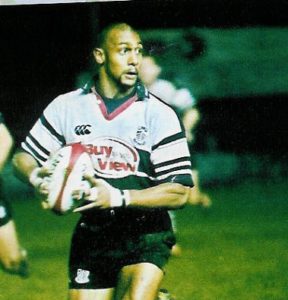 Another very famous league player, Alan Hunte (above), had a less successful attempt at converting to the union game. He joined Ponty in 2000 but lasted just five games. Wikipedia tells us that he "struggled to come to grips with the vagaries of the Union code…." and I remember when he turned out for us on Boxing Day in 2000 against Cross Keys. It was wet and windy and not a good day for any wing three-quarter, let alone somebody playing only his fourth game of rugby union against a typically uncompromising Keys side. He spent a lot of time face down in the Sardis Road mud with the opposition tap-dancing on his back. He played one more game a week later, against Pontyberem in the Cup, and then disappeared back up north.
In the 25 years since rugby union went professional, the game in Wales has struggled to command the sort of support that regularly turns out to watch Cardiff City or Swansea City. Where we will be in another 25 years is difficult to predict, but my only hope is that we can get rugby back on Sardis Road in the not too distant future. The journey 'up north' that I am looking forward to is the two miles up the A470 to the green, green plastic of home!
Keep safe, everybody,
Alun Granfield