Return to News
George Thomas follows his 'yellow brick road'.
Tue 13th March
The player pathway offered by the Pontypridd & Valleys Rugby Initiative has been taking shape over the course of the current season and is already proving its worth. A case study is young winger George Thomas, a student at Coleg y Cymoedd, who made a try scoring senior debut for Pontypridd last Saturday.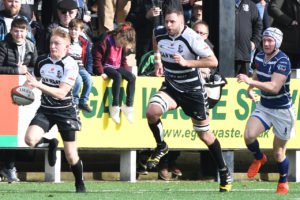 The 'yellow brick road' that can lead young players to rugby maturity has Pontypridd Schools, Coleg y Cymoedd, the Blues age grade system, University of South Wales and Pontypridd RFC as its calling points. A number of players have already contributed with distinction for one or more of those teams this season.
The latest to come to the fore is winger George Thomas who graduated through the regional age grade system and is now studying at Coleg y Cymoedd. Originally from good Builth Wells farming stock, Thomas featured for the Blues at under 16 level before registering at college to study A level English, History and Sport. He spends his time at Pontypridd staying with a host family and returns to his Powys home on weekends.
Having played a prominent role in Cymoedd's championship winning campaign, Thomas was drafted into the Pontypridd senior squad to play his first game against Bridgend, and scored a try to help his team to a close fought win. The experience was one that he relished.
"It was a big step up for me to play at Premiership level" said Thomas, "and it took a while for me to acclimatise, but it was an experience that I really enjoyed. To have top players like Dafydd Lockyer around me was a big help. It was an opportunity that not many youngsters get and I'm grateful that it came my way."
Pending exam results, Thomas has aspirations to enrol at the University of South Wales to continue his academic and rugby career. He also has ambitions to continue playing for Pontypridd.
"The development pathway set out for us as players works well" said Thomas "and we are well looked after by people like Billy Vivien and Justin Burnell. There are plenty of big challenges ahead but I would relish the opportunity to progress at University and to be able to settle into the Pontypridd squad."
A young, upwardly mobile rugby player, George Thomas is following the pathway laid out for him, with hopes of a successful career ahead.