Return to events
Bernard Hedges – book launch
Mon 23rd - Mon 23rd September | Clubhouse Bar
On Monday evening 23d September a special event will be held at Pontypridd RFC launching the biography of a former club player, and one of the greatest ever Glamorgan cricketers – Bernard Hedges.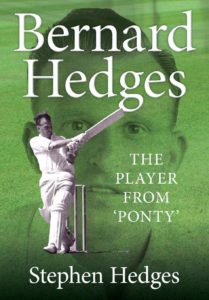 'Bernard Hedges – the player from Ponty' written by Bernard's son Stephen and  published by St David's Press, is the biography of a talented sportsman who played rugby for Pontypridd and Swansea, represented a Great Britain side at football and became a widely respected cricketer for Glamorgan, who:
Scored 17, 773 first-class runs – Glamorgan's 7th all-time top run scorer.
Hit Glamorgan's first one-day century, v Somerset in 1963, in the Gillette Cup.
Was one of only six Glamorgan players to score 2,000 runs in a season (2,026 in 1961).
Bernard's journey from his early days in Rhydyfelin – the eldest of eight children raised in a small council house – to the local grammar school, his National Service days, and to his professional career with Glamorgan is lovingly revealed by his son Stephen, who tells the story of the sporting life of a man who epitomised the 'unsung hero' by showing great grit and determination to make the most of the sporting talent he had.
To book a place at the book launch – admission free – please contact St David's Press.